CZERWENKA & PARTNER has been operating in Brno since 1993. In 1997 it changed its legal form to partnership (v.o.s.).
We focus on legal service in those areas of Czech law which a business entity needs for its proper running. More at SERVICE. Through Dr. Alexander Wanke, MSc MRICS, Austrian attorney-at-law and partner in our law firm, we render also legal services in the area of Austrian law.
Great language knowledge (English and German) of our lawyers and employees enable us to give advice on legal matters to business companies with foreign property participation and foreign management.
Click on INFOSERVICE to find periodically updated overview of legal news.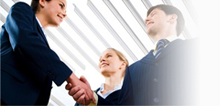 We cooperate closely with the Vienna law firm Schmidtmayr | Sorgo | Wanke Rechtsanwälte OG.